PROCESS MANAGEMENT IN SERVICE COMPUTING
課程::服務流程計算(中山資訊管理所 黃三益 教授)
---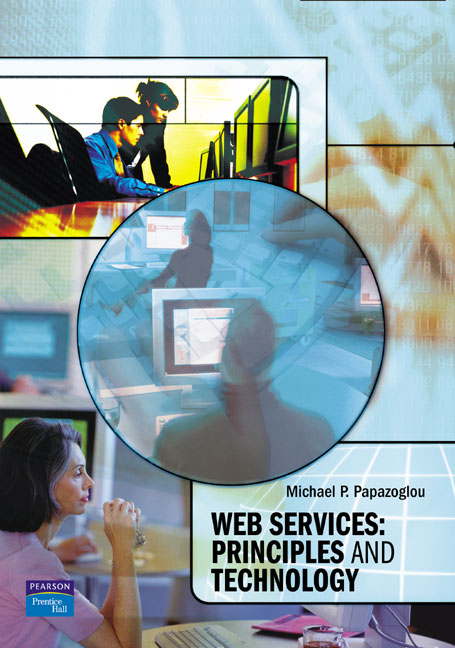 PROCESS MANAGEMENT IN SERVICE COMPUTING
服務計算是一個新興和跨領域的一門學問,探討落實商業服務的科學和技術。本課程將讓學生了解網路服務(Web services)的相關技術與理論,並讓學生學會利用組裝服務流程來建構下一代的資訊系統。
授課教授課程大綱 - 98學年(2)
link
1. 網路服務概述
2. XML
3. 網路服務核心技術(SOAP/HTTP/WSDL/UDDI/
REST
)
4. 服務導向架構
5. 理論流程模式(Petri Net/
Finite State Machine
/
pi-calculus
)
6.
雲端運算(Cloud Computing)
7. 跨組織商業流程管理
8. 流程組合技術(BPEL/OWL-S/WS-Choreography)
9.
網路服務設計與管理(Web service design and management)
課程大綱 - 97學年(2)
網路服務概述
XML
網路服務核心技術(SOAP/HTTP/WSDL/UDDI)
服務導向架構(SOA)
理論流程模式(Petri Net/Finite State Machine/pi-calculus)
工作流程
跨組織商業流程管理
流程組合技術(BPEL/OWL-S/WS-Choreography)
網路服務安全性(Web service security)
網路服務語意(semantics)和服務品質(Quality of Service)
Reference Book
M. P. Papazolou, Web Services: Principles and Technology, Pearson Education, 2008, Breat Britan 

Vasiliev, SOA and WS-BPEL: Composing Service-Oriented Architecture Solution with PHP and Open-Source ActiveBPEL, PACKT Publishing, 2007

學術期刊 - 服務流程計算

---
S.-Y. Hwang, E.-P. Lim, C.H. Lee, C. H. Chen, 2009, "Dynamic Web Service Selection for Reliable Web Service Composition," IEEE Transactions on Services Computing, 1(2),
NSC 96-2752-H-110-005.
Lee, C. H.,
S.-Y. Hwang, 2009, "
A Model for Web Services Data in Support of Web Service Composition and Optimization,"
Proc. of International Workshop on Web Services Performance (WSP 2009), associated with ICWS2009, Los Angles, USA.
S.-Y. Hwang, H. Wang, J. Tang, J. Srivastava, 2007.
"
A Probabilistic Approach to Modeling and Estimating the QoS of Web-services-based Workflows," Journal of Information Sciences (INS), 177(23), pp
5484-5503,
SCI Expanded.


S.-Y. Hwang, C. Ying, C.-H. Lee, 2009, "Selecting Web Services and Participants for Enforcing Workflow Access Control," Proc. of Hawaii International Conference on System Sciences (HICSS-42), Big Island, Hawaii.


S.-Y. Hwang, E.-P. Lim, C.-H. Lee, C.-H. Chen, 2007, "
On Composing a Reliable Composite Web Service: A Study of Dynamic Web Service Selection," Proc. of 2007 International Conference on Web Services (ICWS2007), Salk Lake City, USA.